FmPro Migrator Platinum Edition 8.74 - is a maintenance release improving LiveCode, Image Export to SQL, FileMaker data transfer to MySQL and AppleScript automation.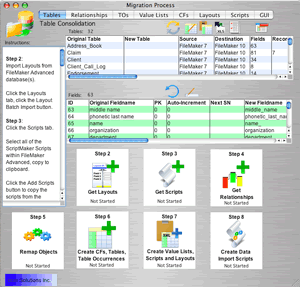 FmPro Migrator is a stand-alone application which quickly and accurately migrates FileMaker Pro databases to MySQL, Oracle, Access, SQL Server, Sybase, DB2, PostgreSQL, and SQLite. FileMaker Pro database structure and data are migrated to a database table in the destination database. Large text, repeating fields data and container field JPEG preview images are also migrated without manual data entry.
The Table Consolidation feature performs the automated copying of Tables/Fields, Table Occurrences, Relationships, ScriptMaker scripts and Layouts between FileMaker 11 - 17 database files on macOS and Windows [except Relationships on Windows].

FmPro Migrator Platinum Edition includes all of the features of FmPro Migrator Developer Edition, but also includes license keys for PHP Conversion, Access to FileMaker, FileMaker to Access database conversions, conversion of Access and FileMaker database into full featured, stand-alone, networkable LiveCode application, as well as PHP and BASIC to LiveCode conversions.
Additional features included with FmPro Migrator Platinum Edition include the conversion of Visual FoxPro projects into LiveCode stacks, Microsoft Access database files, FileMaker Pro database files, Servoy projects, Visual Studio 2010 .Net 4 projects. Most Visual FoxPro Form objects are supported, relationships are imported, and Visual FoxPro code is converted into commented code in the converted database project. Direct data transfers from .DBF files are supported for Access, DB2, FileMaker Pro, MySQL, Oracle, PostgreSQL, SQLite, SQL Server and SyBase database servers.
Feature Comparison Summary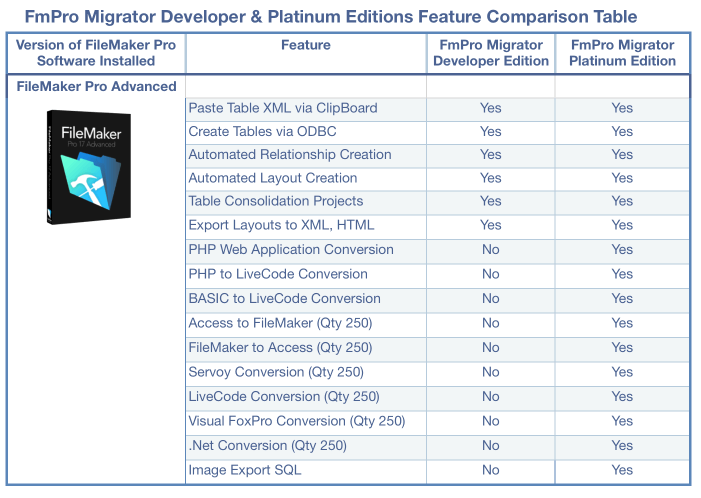 To summarize the feature comparison table, FmPro Migrator Platinum Edition is required for performing Access and FileMaker migrations, as well as PHP to LiveCode and BASIC to LiveCode conversions. The remaining feautures can utilize FmPro Migrator Develper Edition or FmPro Migrator Platinum Edition. But in all cases, FileMaker Pro Advanced is always recommended in order to enable the pasting of Table XML code via the ClipBoard.
FileMaker Table Consolidation Projects [FileMaker Merge Database Automation]
Support Note: The FileMaker 11 - 17 Table Consolidation feature is supported on macOS and Windows.
Consolidating a multi-file solution into a single file enables developers to take advantage of improved performance and the new robust security model implemented within FileMaker Pro 7+. Single-file solutions can also be easier to backup/move between computers and even send to users via an email attachment. FmPro Migrator Developer Edition implements automated batch capture and creation features using AppleScript(macOS)/WinAutomation(Windows) for Tables/Fields, Table Occurrences, Relationships [except Windows], Value Lists, Custom Functions, Layouts and Script Workspace Scripts using FileMaker Pro Advanced 11 - 17.
During the migration process, Table Occurrences and file references are automatically remapped into the new database structure without manual intervention on the part of the developer. TOs are remapped throughout every object of every Layout, Script and Relationship within the new migrated database file.
The 2-pass dependency resolution feature makes 2 automated passes through the Layout creation process in order to resolve dependencies between scripts and layouts. During pass #1 of the layout creation process the layouts are created in the normal manner. ScriptMaker scripts are then pasted into the new database, thus resolving dependencies between scripts and layouts. Then during the 2nd pass through the layout creation process, the contents of each layout are deleted and pasted again, resolving dependencies between layout objects and ScriptMaker scripts.
The Layout text search and replace feature enables developers to quickly repurpose Layouts between database solutions, by changing specified text strings within dozens of Layouts at once. This intelligent search mechanism is implemented to insure that text is changed only within Layout text objects, thus preventing the accidental replacement of text within TOs or field names.
FmPro Migrator Developer Edition creates both static and dynamic Value Lists, with the custom values filled in for static Value Lists. Dynamic Value Lists are created as placeholders for further manual customization by the developer. Static Value List items and Custom Function code can also be edited within FmPro Migrator Developer Edition after being imported from the FileMaker DDR XML file.
Access, Firebird & SQL Server to FileMaker Pro
The Access To FmPro Migration Service built into FmPro Migrator Developer Editon provides a fixed-price conversion feature for Microsoft Access database files to FileMaker Pro database files. This feature includes the conversion of Forms/Reports, Queries, Relationships, Value Lists, Layouts and Visual Basic code.
Using FmPro Migrator, Access databases can be migrated to FileMaker 7+ in order to take advantage of FileMaker Pro's legendary ease of use and increased data management capacity. Migrated Access databases can now grow to the maximum 8TB file size offered by FileMaker 7+ and can be run on macOS and Windows.
FmPro Migrator makes a direct ODBC connection to SQL Server databases to automate the mapping of SQL Server columns to FileMaker Pro fields, perform column name to field name conversions and create the tables in the FileMaker database. When using FileMaker Advanced, FmPro Migrator can put the table definition XML code onto the clipboard for easy pasting directly into FileMaker Advanced. On macOS, FmPro Migrator utilizes the Actual ODBC Driver for SQL Server from Actual Technologies to make a direct connection to SQL Server and Access databases (purchased separately).
FmPro Migrator makes a direct ODBC connection to Firebird databases to automate the gathering of table structure, relationships and transferring data to FileMaker Pro. Firebird relationships are converted into FileMaker Pro relationships and rebuilt in an automated manner using AppleScript/WinAutomation scripts.
FileMaker Pro to SQL Databases
FmPro Migrator 4 Step Migration Process
FmPro Migrator documents and migrates FileMaker Pro database structure and data to MySQL, Oracle, Access, SQL Server, Sybase, DB2, PostgreSQL, and SQLite. FmPro Migrator interactively reads metadata from FileMaker Pro databases, gets Fieldsize info for each field, creates the table in the SQL database and transfers data (including images and repeating fields) between the databases.
Using the FileMaker Pro/FileMaker Server 9+ External SQL Sources feature, data can be stored within a MySQL, Oracle or SQL Server database but still be used within FileMaker Pro as if the data was stored locally. Thus achieving the reuse of existing FileMaker Pro layouts and business logic. FmPro Migrator facilitates ESS configurations by performing the initial SQL table creation and data transfer to the SQL database server. Critical tasks performed by FmPro Migrator include the automated sizing of SQL table columns based upon FileMaker Pro field contents and the transfer of repeating fields data into a new relational table structure.
Repeating Fields Migration
Many FileMaker Pro databases include non-relational data elements called repeating fields. These fields store multiple values within each field and are associated with the main database record by FileMaker Pro. Manually extracting these repeating fields into a relational database structure can be a time consuming and error-prone process. FmPro Migrator easily extracts FileMaker Pro repeating fields into a child database table in which the records are related to the parent table by the primary key. Each iteration of a FileMaker Pro repeating field is inserted as a new record within the repeating fields table as shown in the diagram below. Migrating repeating fields to a SQL database can be an essential step to setting up a FileMaker ESS (External SQL Sources) configuration using MySQL, SQL Server or Oracle.
FmPro Migrator also migrates repeating fields within FileMaker 7+ databases using auto-generated data transformation scripts. This feature overcomes the lack of repeating fields support within new versions of the FileMaker Pro ODBC driver.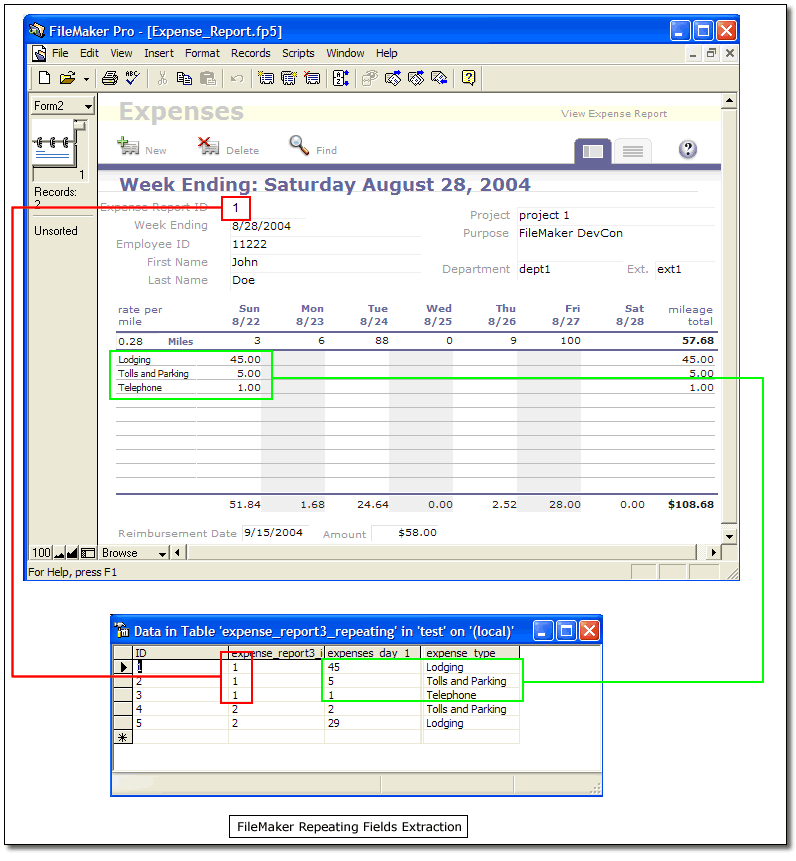 Image Transfer to SQL Databases [Image Transfer SQL Video - macOS & Windows]
FmPro Migrator Platinum Edition directly transfers images and attached files via ODBC to facilitate the migration of FileMaker Pro container field binary data into SQL databases. This container field transfer feature supports inserting of embedded [not external] container field data directly into BLOB columns of SQL databases including MySQL, SQL Server, PostgreSQL, Oracle, and SQLite.
Currently shipping FileMaker Pro versions support the insertion of images including GIF, JPEG, TIFF, PDF, EPS, and PNG when using the Insert Picture... menu. Inserting binary files of all types is supported when selecting the FileMaker Insert File... menu which would commonly be used for storing spreadsheets and other binary files.
Earlier FileMaker versions supported additional file types which are no longer directly supported (including: EMF+ -Windows Enhanced MetaFile Plus, META - Windows Metafile (enhanced), METO - Windows Metafile (original), XMLO - FileMaker layout, JP2 - JPEG 2000, moov - (old) Quicktime format, PICT, qtif - QuickTime Image File, MacPaint, FPix - FlashPix, .SGI, TPIC - TGA - Targa, .SGI generic bitmap, 8BPS Photoshop). These deprecated file types can also be exported to disk by FmPro Migrator, using an alternate image export feature for older FileMaker 7 - 13 versions.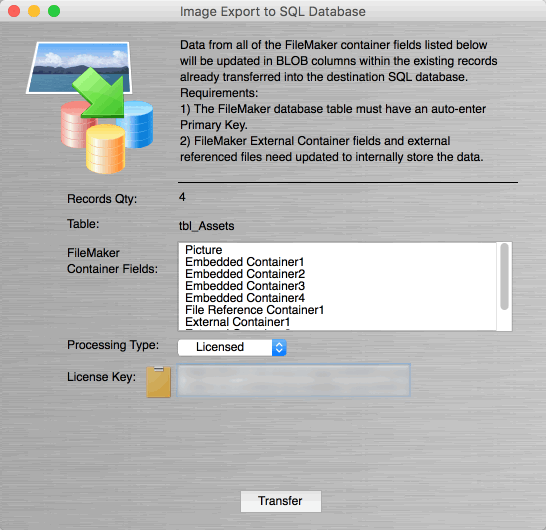 Convert Layouts to Functional PHP Web Applications
The PHP Conversion feature built into FmPro Migrator Platinum Edition provides an automated FileMaker Pro to PHP web applications conversion feature. This feature includes the conversion of layouts/forms/reports, scripts, relationships, tab controls and value lists. This feature leverages the automated layout and relationship importing features of FmPro Migrator Platinum Edition.
FileMaker Pro developers can convert existing or new FileMaker Pro database files directly into functional PHP web applications within a few minutes. The converted PHP web application uses the contents of existing layouts to build dynamic web forms having insert, query, update and delete features. Almost all layout objects are converted, including: charts, image fields, tab controls, custom value list menus, field-based value list menus (single and dual field), checkboxes, radio buttons and vector graphic objects (rectangle, rounded rectangle, oval/circle).
Convert FileMaker Pro to SQLite
Convert FileMaker Pro database files into SQLite, in preparation for performing an automated conversion into LiveCode for building desktop or mobile applications. SQLite is the portable database of choice for mobile application development, if data needs to be stored on a mobile device.